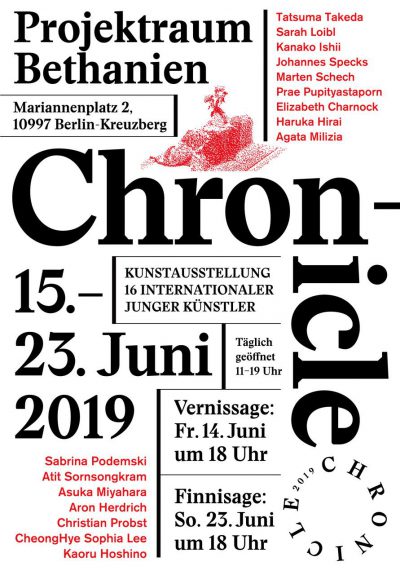 Chronicle
Projektraum in Kunstquartier Bethanien
Mariannenplatz 2, 10997 Berlin
15.06.–23.06.2019
11:00–19:00
Opening: 14.06.2019 18:00-
Artists:
Elizabeth Charnock, Aron Herdrich, Haruka Hirai, Kaoru Hoshino, Kanako Ishii, CheongHye Sophia Lee, Sarah Loibl, Agata Milizia, Asuka Miyahara, Sabrina Podemski, Christian Probst, Prae Pupityastaporn, Marten Schech, Atit Sornsongkram, Johannes Specks, Tatsuma Takeda
Digitalisation is advancing rapidly in today's world and contemporary art is changing alongside it. The use of digital media has made it much easier for viewers to interact directly with art. It's clear to see that digitalisation has had a massive influence on our generation, and this is only set to increase in the future. Nevertheless, we cannot truly say that we feel completely at home in the digital world, despite being the first generation of Digital Natives. Our childhoods were still spent surrounded by natural, tangible things. Things that later had to compete with the influx of computers and other technical devices. Our values have been heavily impacted by these formative childhood experiences.
One goal of the exhibition is to bring together artists, for whom it is important to differentiate between physical, tangible materials and immaterial digital media. As international artists in Germany, we have learned to appreciate the value of concrete, real things. Working with physical materials is a raw, organic process which is indispensable for making art and it provides an exciting contrast to our constant, daily interaction with digital devices. The sixteen artists selected all concern themselves with specific, physical media. Marshall McLuhan said that materials are an extension of the human body, and in this way each artist is able to communicate between themselves and the chosen exhibition space.
Digital technology isn't anything special for us. It has become the norm. Our bodies react when we are presented with real, physical materials – what is it that we gain from them? We believe that we belong to a generation challenged by the questions such as these.
posted 10/06/2019